Asuka Method At Home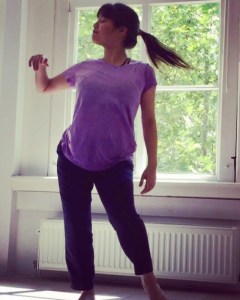 The Asuka Method is a unique methodology created to focus on true consciousness and creativity by using and connecting the elements of dance styles such as technique and musicality. All the exercises invite you to flow and breathe through the body with the Asuka Method original music to create the right balance of tension and relaxation. And the Asuka Method class has been designed for strength building, a good night's sleep, stress reduction, improvement of blood and energy circulation, mindfulness, pain reduction, correction of the posture, and improvement in flexibility of your spine.
Each program includes warming up, various training series (foundation, balance, dancing), and cool down, that is 12 exercises in total. You can freely and flexibly combine the exercises in the way you want in accordance with your needs and allowed time.
I suggest some combination of exercises which I created for stress relief, strengthening, and stretching etc.
WHAT DO YOU NEED?
a yoga mat: it is not necessary but if you have one you might feel more comfortable and can protect your knees.
yoga blocks: you need them when you need a support by stretch. You can use some books instead.
WHAT PROGRAM DO YOU CHOOSE?
Currently, 'Asuka Method At Home' series1 to 5 are available. This program is created to train the awareness of fundamental human body movements, and you will discover something new in every series.
However I strongly recommend you to start from 1 to learn correctly. You will find additional movements in higher numbers and I explain less.
They are programmed to match to the pace of the natural change of the body and the mind.
'Asuka Method At Home' 1 is friendly for persons who don't do exercise or dance much. So everybody is welcome!
When you complete 'Asuka Method At Home' 5, you really know your body and you feel confident about yourself. I offer each program (90 min. and includes 12 exercises) for:
for persons who want to try out, who want to train yourself in short period,who train often at dance/fitness studios and want to reach your goal.
for persons who want to take time, build solid and strong body with your pace,who don't exercise much but want to include this in your daily routine.
In this period, you can watch and practice as many times as you like.
I recommend you to practice at least 3 times to feel the physical and mental effect!
If you are interested in online private session to learn a proper lesson or get physical / mental advice, please check the "Online Private Session" page.