Asuka Method Foundation Class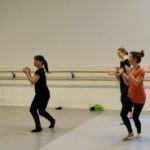 The Asuka Method is a unique dance methodology that has been created to focus on true consciousness and creativity by using and connecting the elements of dance styles such as technique and musicality.
You will improve your dance technique in the dance style you are already comfortable with, by moving slightly differently in accordance with the music of the Asuka Method in order to increase the awareness of the fundamental purpose of the techniques. In the Asuka Method, you will learn how you need to move differently and through which movements you need to change in order to improve your own dance technique. This creates a strong body and mind with resilience, adaptability, and stability, it maximizes your abilities and skills.
The Asuka Method offers the space and time where we feel safe to experience and to explore how to create our authentic happiness and freedom.
Let's spread our wings and fly as we want – all the while enjoying being ourselves and having fun. I will help guide you to reach higher and hit your own individual goals.