Asuka Method Ballet / Point class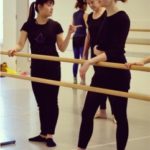 The Asuka Method is a unique methodology created to focus on true consciousness and creativity by using and connecting the elements of dance styles such as technique and musicality.
Asuka Method Ballet is programmed to find the right placement and right the balance of tension and relaxation.
By adding the organic movements (more movement in the spine) and different movements which don't necessarily belong to ballet you are forced to listen and to adapt to the body and the music on any particular day to keep the body and mind (which is constantly changing for your whole life) all natural and healthy.
This enables you to naturally enjoy your body and dance for the long term.